Can I Bring an Emotional Support Animal to School?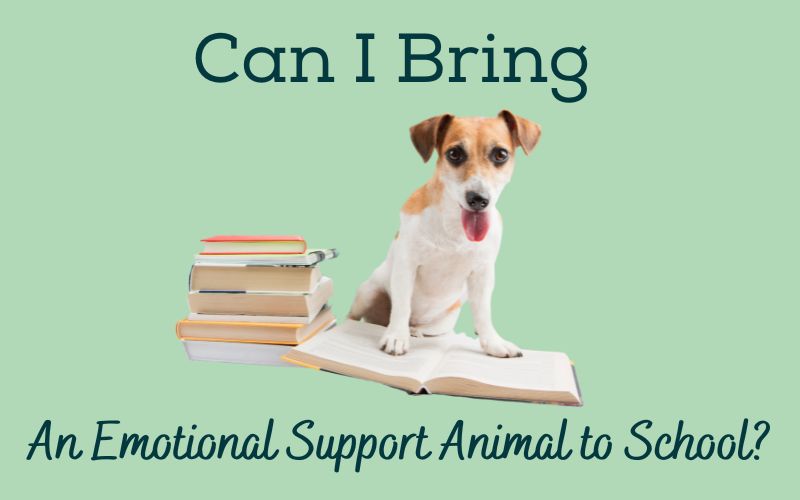 Emotional Support Animals are solving the purpose of human lives. These animals provide love and companionship to persons suffering from mental or physical disabilities like anxiety, depression, phobias or panic attacks. Depending on the type and level of support they offer, various assistance animals have special rights.
If you have any disability and want to get your Emotional Support Animal along with you, the first question that will strike your mind is, Is it possible for me to carry my ESA on the College Campus with me? Yes, it is possible, as some pet-friendly colleges are providing the services of taking your ESA with you in dorm rooms. We'll explore Emotional Support Animals and How to Qualify for an ESA more closely. Also, we'll discuss the legal rights provided to the ESA, particularly when it comes to going to a school or college.
What are Emotional Support Animals, and How do they Qualify for an ESA?
As mentioned above, Emotional Support Animals are the animals that provide love, care and comfort to individuals suffering from any disabilities. An emotional support animal can be any animal, though most of them are dogs or cats. Some people own birds, fish, rabbits, and other animals. Unlike service animals, emotional support animals don't need to be trained to carry out specific activities.
Emotional support animals are also named therapy animals or assistance animals. They primarily support emotional or mental health, and a valid ESA letter can ensure that your animal stays with you and can help you in coping. It is crucial to ensure that your pet is well-behaved and potty trained because colleges allow students to bring their ESA to the college campus and even the classrooms.
An ESA letter proves that your pet is an Emotional Support Animal, and you can keep it with you either in your home or the classes.
To qualify for an ESA, you would require an ESA letter. This letter would be the authentic proof that you need an Emotional Support Animal. The Licensed mental health professionals should sign this letter.
Are the ESAs allowed in Schools/Colleges Legally?
Legally, it is not required for schools and universities to permit emotional support animals on their property. However, some schools allow ESAs access to their campus because their administration recognises and values their significant role in students' lives.
However, housing providers often can seek FHA exclusions for harmful animals, which could cause unreasonable financial hardship. Consequently, a college may be able to reject some ESAs, such as a miniature horse.
Can I take my ESA to the class?
Some of the institutions are allowing you to take your ESA with you in the classrooms. But if your ESA does not behave properly or tries to create any nuclease in the classroom, then you may be asked to leave your ESA at home. However, as per the Fair Housing Act, ESAs are only allowed in housing, not in the classrooms, but still, many colleges are welcoming the ESAs in the lecture halls. Direct communication with your school is preferable in this case.
Benefits of having ESA in Schools/Colleges:
Emotional support animals are not just animals. They are blessings for those who are suffering from disabilities. Here are some of the benefits which ESA provides to their owners.
Students with any mental disorder may feel safe and secure through their love and care.
With the help of an ESA, it is expectable that the performance of the students will increase and they will start paying more attention towards their studies.
As dogs are soulmates, so many pet owners use dogs as their ESAs. These furry pooches need to be groomed and taken for regular walks. This benefits the owners with physical health. Grooming, feeding, or playing with the animal helps the owner feel less lonely and isolated and is likely to divert them from negative thoughts.
ESAs have a loving nature, and because of that, other students are attracted to and like to interact with them. For that reason, they come to you, which helps you to be more social towards others.
Generally, we can say that having an ESA around can benefit their owners with mental and physical health by improving their social life and helping them feel more confident and at ease.
Can my current pet be treated as an ESA?
If the pet that you're having is helping you out in any way by either providing you emotional support or helping you out with any work, then yes, it can be treated as an emotional support animal.
With the help of a valid ESA letter, you can stay indoors on the college campus or in residence halls by showing your ESA letter to the Director of the college or school.
However, ESA laws can differ from state to state, loyalty to the locality, and even between colleges or universities. The majority of public places, including schools and colleges, are animal-friendly. If your performance bothers your growth because of the ESA, you might be asked to leave the animal at home or outside the classroom.
Are you the one who has still not certified your pet as an Emotional Support Animal and wants to know How it can be Certified? Then you are on the correct page.
How Can I certify my pet as an Emotional Support Animal
Emotional support animals are different from service animals, and for the certification process, they require an ESA letter. This letter should always be available with the ESA owners, which is to be signed by the mental health professionals stating that you are being treated for your disability.
Usually, a certified ESA letter is sufficient, but you should suffice it with the third party before making any plans. Even if your doctor has written a note confirming your need for an emotional support animal, some places and homes may still demand that you provide them with a valid ESA letter signed by the licensed mental health professional only.
What is a Emotional Support Animal? Why You Should Qualify Your Pet as an ESA?
Looking To Apply For An Emotional Support Animal Letter?
1. Fill up and Submit ESA Evaluation Form Online.
2. Get Evaluated by a Licensed Professional.
3. Get Approved, and Receive Your ESA Letter Instantly via E-mail.
Dog Diet: Things to Know About Feeding Your PetWritten By Blake QuinnTable of Content Introduction What is the Best Pet Food for a Pet? Pet Food Ingredients Guidelines for Feeding Pets There is no doubt that dogs are the best loving companions in our...
Stay Up to Date With The Latest News & Updates