Can I Bring an Emotional Support Animal to School?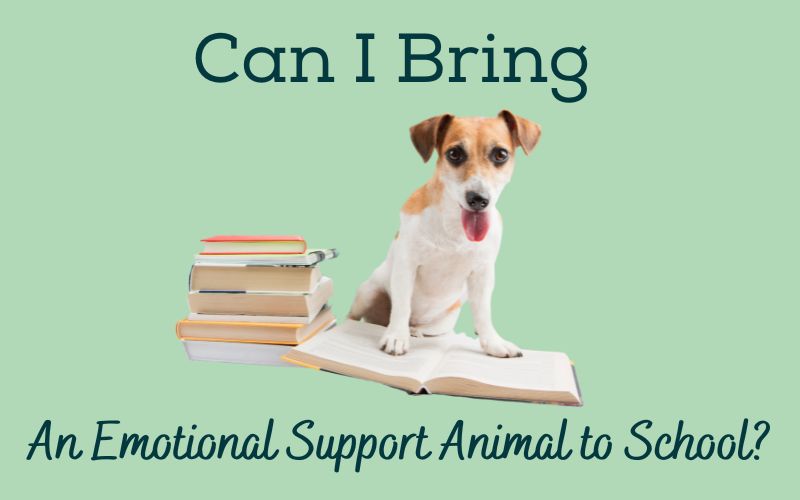 On college campuses, emotional support animals are permitted, but the policies differ from school to school. People with psychological problems such as anxiety, post-traumatic stress disorder (PTSD), depression, eating disorders, and insomnia can benefit therapeutically from having emotional support animals.
Animals can provide unconditional love and support, which the mental health community has discovered can assist to lessen the symptoms of psychological diseases. Having an emotional support animal gives people with psychological disorders the support they need to function and thrive in these challenging environments. People without emotional support animals may feel isolated and may find it more difficult to handle stressful situations, such as going to college. Before bringing your emotional support dog to college, it's important to differentiate between service animals and emotional support animals. Be sure you are aware of the various laws and guidelines that they are subject to. The following advice can be used while traveling with an emotional support animal to college.
Difference between Emotional Support Animal and Service Animal
Emotional support animals and service animals are not the same under the Americans with Disabilities Act and do not enjoy the same privileges. Service animals must be permitted to accompany a person wherever the general public is allowed to go. Service animals are dogs or miniature horses that have been trained to carry out specific tasks for disabled people. Whereas emotional support animals do not require specific training, they do not have the same legal protections as service animals, and may not be permitted to travel wherever their owner does. Housing is the only exclusion. Emotional support animals must be permitted to live with a person in accordance with the Fair Housing Act, regardless of any local pet bans or breed limitations. If you intend to bring your emotional support animal to college, it must be legal for them to live with you, but they might not be allowed to go with you to other locations on campus like the food court, academic blocks, gardens, etc, or in the neighborhood.
Documentation or Letter for your Emotional Support Animal
Make sure you carry your papers with you at all times to prevent confusion whether traveling or residing with your emotional support animal. An individual must receive a letter from a qualified mental health professional that provides the following information in order to qualify a pet as an emotional support animal:
A prescription or ESA letter that is less than a year old, signed and contains the licensing information of the current mental health provider. It should be on the provider's letterhead.
The mental health professional who signed the letter have conducted an evaluation of the person who is using an emotional support animal.
The person needs an emotional support animal because of a DSM IV or V-listed disorder.
This letter is portable and will dispel any lingering questions about whether you are traveling with an emotional support animal or a pet.
Forms for Emotional Support Animals in Universities
In addition to your ESA letter, several colleges and universities are now requiring additional paperwork. A student is not compelled by law to submit all of the private information that the university forms and documents occasionally ask for. For instance, some university applications will inquire about a student's private medical history or how frequently they have seen a qualified mental health professional. This information is confidential and may violate HIPAA privacy regulations. Don't let your school pressure you into filling out the entirety of an ESA University form; make sure you are aware of your rights.
Living with your ESA on a College Campus
It is crucial to get ready for living with your emotional support animal on campus once you have been accepted to a college and granted housing where you can have them with you. The following advice can help you be more ready for college life with an emotional support animal: Roommate It is important to let your roommate or roommates know about your emotional support animal if you will be sharing a space. According to the law, you cannot be refused housing, but it's important to get in touch with your roommate to make sure they can live with you and your ESA because they might have an allergy to or fear of a particular kind of emotional support animal. It's important to realize that taking care of your ESA is your responsibility. If your roommates or fellow students offer to help, that's great, but don't rely on them to do so. Care Whatever kind of emotional support animal you have, it's crucial that you have the time and wherewithal to properly care for it while living on campus. It's crucial to thoroughly clean up after your pet because dorm rooms are compact and animal odors can spread. If you have a dog, be sure you have the time to walk it, take it outside to relieve itself and clean up after it. If you own a cat or other small animal, be sure to regularly clean their cage or litter box. If your pet sheds, you'll also need to be ready to clean and vacuum your dorm room if it does. Dorm room It's crucial to ensure that your emotional support animal will feel at home in a tiny place. Cats, birds, and other animals kept in cages typically don't have a problem with tight confines, but huge dogs, in particular, may struggle with living in a space as small as a dorm room. To make sure your emotional support animal can handle living in a dorm, it is advised that you keep them there for a test period of time.
Final thoughts:
I hope I have cleared your doubts regarding whether you can carry your Emotional Support Animal to the college campus or not. But still, if you are left with some doubts and want to have your ESA letter by which you can bring your ESA to campus, you can visit the Fast ESA letter website and start chatting with the team of professionals. They will surely help you in getting all your doubts cleared and they will also provide you with an ESA letter signed by a licensed mental health professional.
What is a Emotional Support Animal? Why You Should Qualify Your Pet as an ESA?
Looking To Apply For An Emotional Support Animal Letter?
1. Fill up and Submit ESA Evaluation Form Online.
2. Get Evaluated by a Licensed Professional.
3. Get Approved, and Receive Your ESA Letter Instantly via E-mail.
Can Cats Eat Grapes? And, What about the Raisins?Written By Blake QuinnTable of Content Introduction Can Cats have grapes? Are grapes bad for Cats? Can cats eat raisins? What are the Signs of Grape or Raisin Poisoning in Cats? Do you know how Raisins...
Stay Up to Date With The Latest News & Updates