LEGIT OR BOGUS?
IDENTIFY ANY ESA LETTER IN MINUTES.
Publish Date: May 8th, 2020; Author: Darren M. Jorgenson.
There is a Lot of Online scam going on, and it is very difficult to find a legit ESA doctor online. If you don't know the differences, you might end up getting scammed, and the issues don't end up here. If you tried to present the Fake ESA Letter to your accommodation complex or your airline, You might get rejected to access a reasonable accommodation, or you won't be able to bring your pet on board. If you are living in an accommodation currently with your emotional support animal, you might end up getting notice or paying a fee/security for your Emotional Support Pet. Under such circumstances, you won't be able to refuse your landowner, and probably will end up paying pet deposits.
Also, Offering illegal documentation to proprietors, transportation providers, or public facilities is a criminal offense. If you offer a Bogus certification, you might get penalties i.e. You may end up spending jail time or paying the fine which varies from state to state, and in some states, it goes up to $1,00,000.
On the contrary, if you have a Legit ESA recommendation from a licensed therapist, you can secure yourself from getting involved in all these problems. You can secure your access to any housing accommodation without getting discriminated, and without paying pet deposits to your landlord. Also, you could fly with your Emotional support pet in almost every airline. If you acquiring a Legit Emotional Support Animal Letter, you will be backed up by the Fair Housing Act (FHA), the Rehabilitation Act, Air carrier access act, and the Americans with Disability Act (ADA). In this article, we will acknowledge the differences between Fake & Legit ESA certifications and inform you how you can get a Legitimate Emotional Support Animal Letter for your sweet, caring, and furry friend.
Looking to Apply for an ESA Letter for Your Pet
Get Started by following these Steps:
1. Start FIlling up the ESA Evaluation form with your details.
2. Get Evaluated by a Local ESA Doctor once the submission is complete.
3. Get Approved and Receive your Letter In Your Email.
Here is What A Legit ESA Travel Letter Looks Like?
Here is What A Legit ESA Letter for Housing Looks Like?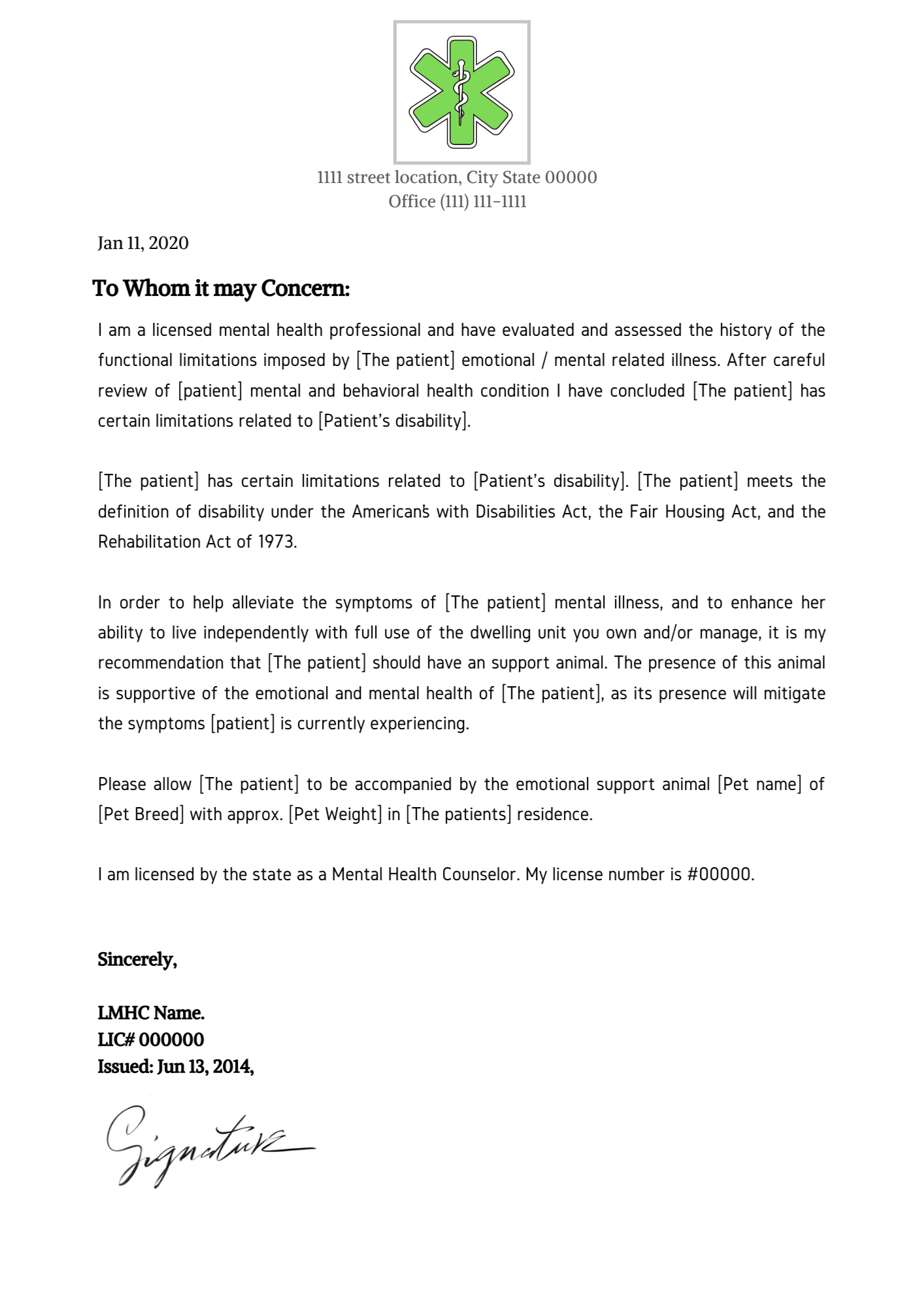 THIS IS HOW A SAMPLE ESA LETTER LOOKS LIKE

Date: Tuesday, July 30, 2019
RE: Emotional Support Animal Recommendation to Patient Name
(Patient Name) is my patient and has been under my care since July 30, 2019. I am familiar with her history and with the functional limitations imposed by her mental related illness. This person meets the definition of disability under the Air Carrier Access Act (49 U.S.C. 41705 and 14 C.F.R. 382).
Due to this mental disability, this individual has certain limitations related to social interaction and coping with stress. The presence of this animal is necessary for the mental health of her because its presence will mitigate the symptoms she is currently experiencing. To help alleviate the difficulties, and to enhance her ability to live independently, I have prescribed Sarah to obtain an emotional support animal. Please allow Sarah to be accompanied by an Emotional Support Animal in the cabin of Aircraft if this is the case.
I am very much aware of the voluminous professional literature related to the therapeutic benefits of emotional support animals for individuals with mental disabilities, such as those faced by Sarah. Upon request, I will share quotations to relevant studies and would be more than willing to answer any questions that you may have regarding my recommendation that (Patient Name) should have an emotional support animal. Should you have any further questions, please do not hesitate to get in touch with me.
Animal Name/breed: (Dog Name) /Dog (Breed)
Issue Date: Tuesday, July 30, 2019
Expiration Date: Thursday, July 30, 2020
Sincerely,
Professional's Signature
Name of Professional (Doctor/Physician Assistant)
State Medical License: #00000
License Issue Date: October 2018
What is an Emotional Support Animal?
An Emotional Support Animal is an untrained pet designated as a part of the treatment plan by a licensed mental health professional to heal the symptoms of an emotional, psychological, and mental disability of an individual. Emotional Support Animals are privileged by the fair Housing Act, The Rehabiliation act, and the air carrier access act which allows them to live and Travel with their handler without any restrictions.
What Should as Emotional Support Animal Letter Must Include
An ESA Letter Sample should always be written on the physician's professional letterhead. A Letter that includes the name of a website or isn't on letterhead is considered as a bogus certification, and they aren't accepted by both housing complexes and travel companies. The Information on an Emotional Support Animal Letter Must Include:
Date of Issue & Expiration.
Name of the Patient to whom the letter Concerns.
Doctor's Confirmation that the patient is under their care for a specific mental or emotional disability.
Laws under which the patient meets the definition of disability.
Role of Emotional Support Animal in Patient's Treatment.
Brief Details of Pet to be designated as an Emotional Support Animal i.e. Name, Breed, etc.
The name & signature of the licensed mental health professional (LMHP).
The name of the practice.
Phone number of the practice.
The type of medical license.
Date when the medical license was issued.
The state of the physician's jurisdiction.
Am I Eligible to Get an Emotional Support Animal Letter?
A mental or emotional disability that is acting as a barrier to your life activities can help you to get for an emotional support animal letter from licensed mental health. A patient undergoing one or more of the mental or emotional disability listed below could qualify for an emotional support animal.
Stress, Depression or Anxiety
Autism
Bipolar Disorder
Panic Attacks
Phobia
Post-Traumatic Stress Disorder(PTSD)
Attention Deficit Hyperactivity Disorder (ADHD)
Obsessive-Compulsive Disorder
Any other Psychiatric condition
Darren M. Jorgensen has a fondness for all animals, though dogs especially, have a huge home in his heart. He enjoys quilting, making handcrafted soap and bodyworks and anything that produces practical products. Jorgensen lives with his own service dog who doubles as an Emotional Support Animal. He gets it.