Psychiatric Service Dog Letter
A PSD letter is an official document signed and written by a state-licensed health professional on official letterhead. Any LHMP can write a PSD letter like a psychologist, doctor, therapist counselor, etc. This psychiatric service dog letter declares that the Dog is part of the treatment plan for a person who suffers from a psychiatric, emotional, or mental disability.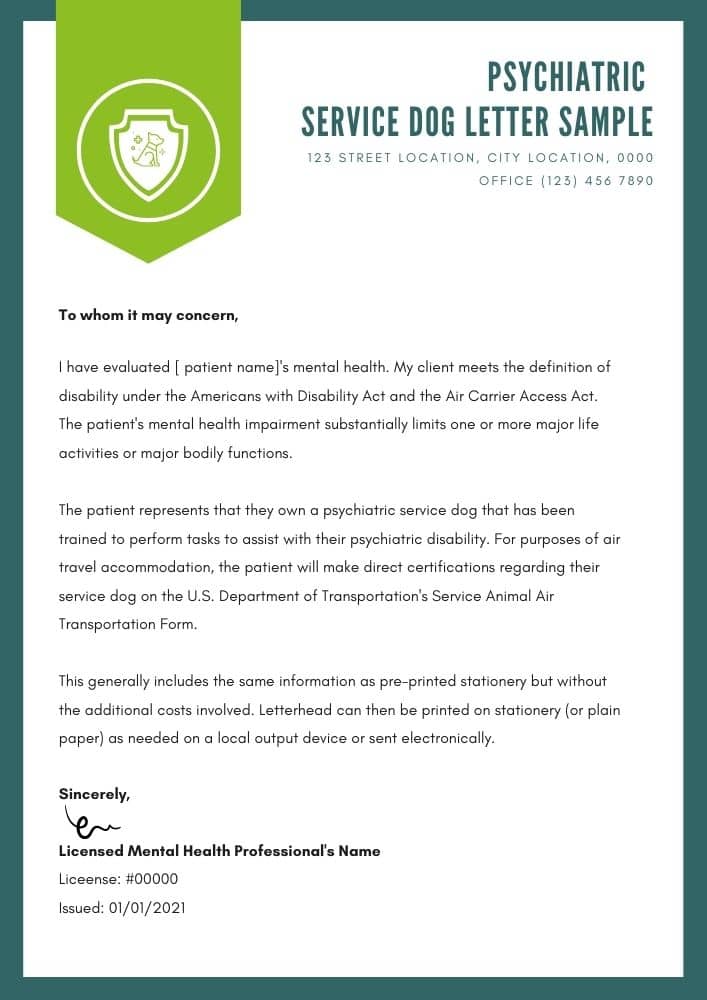 A patient can apply for a PSD letter for fully trained or in the process of training and even before training the Dog, as a Psychiatric service dog. Once the patient gets a PSD letter for their Dog, they have a legitimate document claiming that their disability is eligible to own a Psychiatric service dog. With the help of this psychiatric service dog prescription letter, an owner can savor various benefits like;
Live Anywhere
Live with Psychiatric service dog even in "No Pet Housing Apartments."
Fly with PSD
Fly with a Psychiatric service dog on any airline free without paying pet fees.
Work with PSD
Take your Psychiatric Service Dog to the workplace.
Roam with PSD
Legal permit to take their PSD letter dog in public places like hotels, restaurants, malls, etc.
What is a Psychiatric service dog?
A psychiatric service dog (PSD) is an animal that assists psychiatric or emotionally disabled persons. These dogs are specially trained to qualify as psychiatric service dogs to offer proper assistance to their owners. Such assistance includes;
Reminding the owners to take medicine,
Comfort the owner in socially anxious situations,
Relax the owners who get panic attacks,
Take care of the owner who has self-destructive behavior, etc.
Psychiatric service dogs (PSD) are also known as Psychiatric assistance dogs. No animal other than dogs can be trained as a psychiatric service animal. Almost any Dog can act as a psychiatric service dog irrespective of its size or breed. Like an emotional support animal, a psychiatric service animal assists its owner. However, the difference lies in the fact that almost any animal can be an ESA, but only a dog can be a PSD. The other difference is that PSD is specially trained to assist its owner, whereas ESA doesn't need special training.
How to get a Psychiatric Service Animal Letter?
Fill up a simple form and submit it on Portal
Click on the apply now button and Fill up a simple form mentioning your and your pet details. Don't forget to mention your medical condition in the form.
Get Evaluated by a state-licensed MHP
Once you submit the form, a state Licensed health professional will evaluate your PSD dog letter application from the details you mentioned in your form.
Receive your PSD Letter via email instantly.
If the doctor approves your disability, we will send your PSD letter to your email. You can download or print your letter and show it to the landowner or Airline.
Who can get a Psychiatric service dog?
As per the Americans with Disabilities Act (ADA) and Air Carrier Access Act (ACAA), the person should have a mental, emotional, or psychiatric disability to qualify for a PSD service dog. Only a state-licensed health professional can decide whether a person qualifies for PSD dog certification. Some of the medical conditions that are eligible for a psychiatric service dog certification are;
I am Claustrophobic. I just can not handle crowded surroundings, and it's hard for me to conduct myself in situations like these. Really, my Dog understands this and assists me wherever I go. But let me tell you, whenever I visit restaurants or cafes with my Dog, it's too difficult to prove to the staff that my Dog is a PSD and I really need him. For that very reason, I was looking for a letter for my psychiatric service dog near me. After googling for a while, I landed on the Fast ESA letter page. The process was simple. I got my PSD letter on the same day I filled in their form. Thanks fastesaletter. With your PSD letter, I can take my Dog wherever I go.
I have been suffering from anxiety issues since my teen. A few years back, situations worsened when I started getting severe anxiety attacks. So as to help, my mother adopted a psychiatric service dog for me. After that day, my Dog has always been a great support for me. He calms me in every anxious situation. However, as I moved to college, the dorm staff asked for a PSD letter to let my Dog stay with me. That's when my roommate suggested the fast ESA letter. Without any second thought, I got a PSD letter for them. In order to submit it in my dorm, I needed it urgently. So they provided it to me on time. Really very fast service.
Apply Your PSD Letter Now