Get An Emotional Support Animal Letter to Certify Your Pet Today.
How to Get An ESA Letter?
Getting an ESA Letter is Easy. Now you can receive a recommendation directly from licensed professionals in just 24 hours. All it takes is three clicks. Here's how you can get started.
Step – 1
Fill-up and Submit ESA Evaluation Form Online.
To begin with, fill the online assessment form with your medical details and describe your emotional support animal. Select the letter you need and submit the form.
Step – 2
Get Evaluated by a Licensed Professional.
Afterward, A Licensed Mental Health Professional will review the form. Based on your answers, they will approve your request for an Emotional Support Animal and sign a recommendation letter for you.
Step – 3
Get Approved, and Receive Your ESA Letter Instantly via E-mail.
Once your recommendation is ready, we will send it to your email. After that, You can download or print your letter and present it to the landowner or Airline.
Our team will help with any extra forms you need signed and our therapists are available to talk to your landlord anytime.
An Emotional Support Animal Letter is an official document that is written and signed by a licensed mental health professional. It recommends a pet as part of an ongoing treatment program for a mentally and emotionally challenged person. Any LMHP, such as a therapist, psychologist, or psychiatrist can provide an ESA Certification if an individual qualifies during their evaluation.
What Are the Benefits of an ESA Letter?
Emotional Support Animals can help Mentally detached Individuals to deal with their mental and emotional disorders like Stress, Depression, PTSD, etc. Besides health Benefits, Emotional support animals also provide federal protection to their owners in Housing. ESA Owners are allowed to:
Live with their emotional support animals even in "No Pet Housing Apartments."
Fly With Emotional Support Animals in Cabin of Airline without paying any fee for their ESA.
Devoid any kind of security deposits and pet fees that a landlord may charge otherwise.
Devoid any kind of discrimination that resists them to live with their ESA.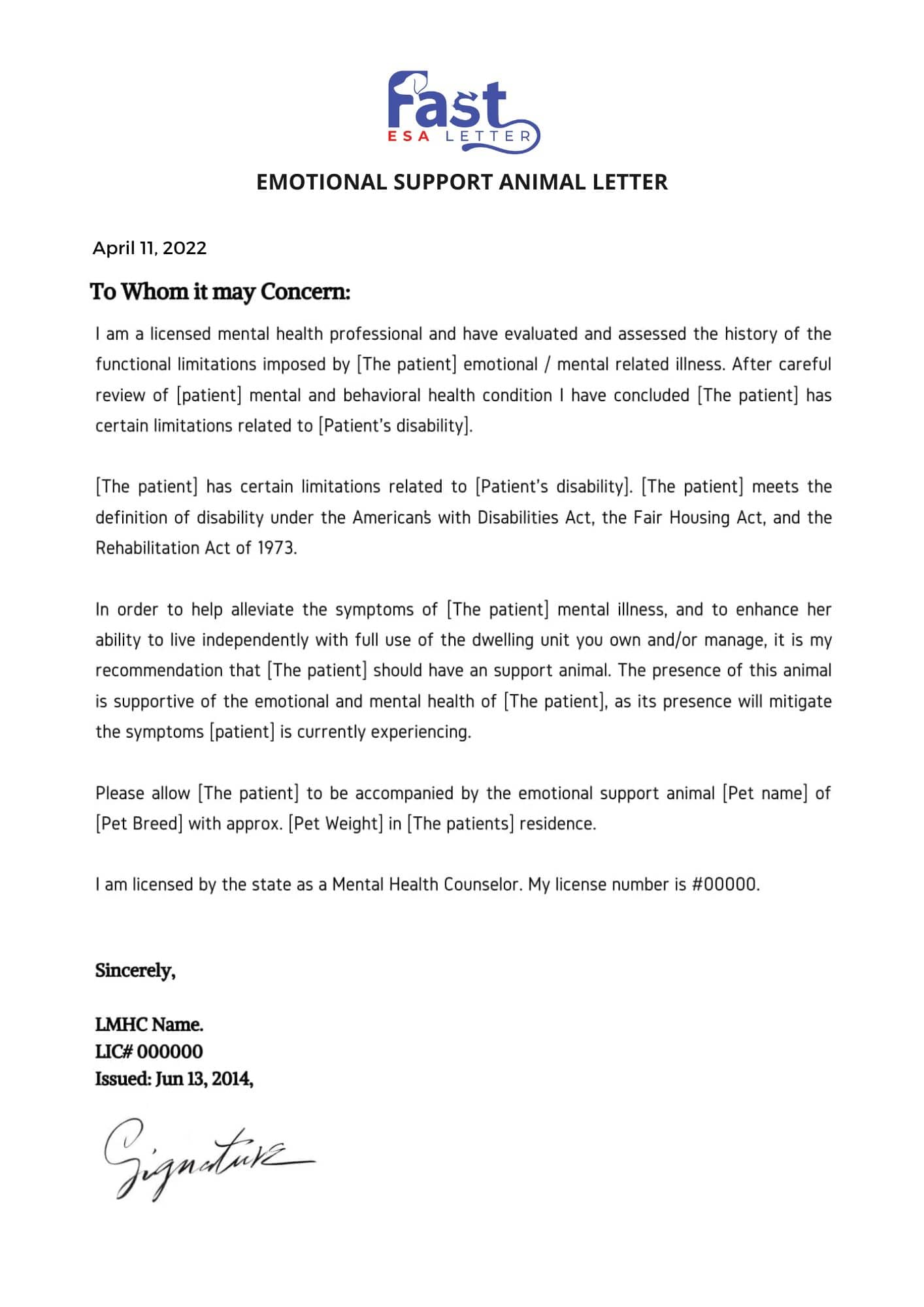 What Are The Types of An Emotional Support Animal Letter?
Based on Federal Laws, Currently ESA Letter is of 1 type only, and that is Housing. Emotional Support Animal Letters can play a significant role while living with a pet in a rental apartment.
ESA Letter for Housing
An ESA Letter for Housing is a Document that is followed by the Fair Housing Act and the Rehabilitation Act of 1973. It allows a mentally and emotionally challenged person to live with an emotional support animal in rental accommodations.
An ESA letter for housing protects disabled patients from discrimination by landowners. In many cases, such as no-pet housing, pet fees, and deposits, ESA owners are federally protected.
*As per DoT's new guidelines, Airlines are no longer obliged to accept Emotional Support Animals onboard. So, A few airlines may not accept your ESA Letter. Check the list of airlines that are still accepting Emotional Support Animals here.
*If you are a California resident, you will need to establish a client-provider relationship with the doctor for at least 30 days before getting documentation, as per AB 468 (effective January 1, 2022).
Avoid Pet Fee's and Deposits
Protects from Discrimination
Who Can Get An Emotional Support Animal?
Any mental or emotional disability that is recognized by the Diagnostic and Statistical Manual of Mental Disorders (DSM) and can be healed by an ESA can help you get an ESA letter from a licensed physician.
Medical Conditions To Qualify For An Emotional Support Animal As Per DSM-V
Learning disorders.
Attention Deficit Hyperactivity disorder
Sexual disorder.
Intellectual disability (Mental retardation).
Provisional Tic disorders.
Developmental coordination disorder.
Bipolar disorder.
Gender identity disorder (GID).
Substance-related disorder (alcohol, drugs).
Neurocognitive disorders (NCDs).
Frequently Asked Questions
What is an emotional support animal?
An animal that alleviates the symptoms of emotional or mental disability by providing therapeutic benefits to an individual is called an Emotional Support Animal.
Emotional Support Animals don't require to go through some special training to qualify. Almost any animal can qualify as your ESA, irrespective of breed, weight, and size.
These animals are not different from regular pets.
However, the purpose these animals serve and the assistance they offer make them unique. Keeping that in mind, it means you can make any ordinary animal your emotional support animal. Well, to do that, the following criteria should be well aligned;
You suffer from a mental or emotional illness that requires the assistance of an ESA.
You have Legitimate Proof, i.e., an ESA Letter signed by your state's licensed health professional that supports your need to have an emotional support animal.
Once you complete this checklist, you can relish the privileges offered under the Fair Housing Act and Section 504 of the rehabilitation act to the Emotional Support Animals and their owners. Due to the protections provided under these laws, you will have access to the following rights;
You can stay with your ESA in a no-pet apartment.
You don't require to pay any extra pet fees to keep your ESA with you in your apartment
You can take your pet to AirBnbs.
You can keep your pet in college or school dorms.
(Note- You will be able to claim all these rights only if you have an ESA letter written and signed by your state's licensed health professional.)
How do I get a legitimate ESA Letter?
To get your legitimate ESA letter, you just need to follow our simple 3 step process that goes as follows;
Get Evaluated by a Licensed Professional.
Get Approved, and Receive Your ESA Letter Instantly via E-mail.
Is Fast ESA Letter BBB accredited?
Yes, the Fast ESA letter is accredited by Better Business Bureau as a credible, authentic, and reliable platform. After assessing our service, BBB has declared that the Fast ESA letter is committed to putting effort every day to resolve customers' issues.
Who can write an ESA prescription for me?
As per laws, an LMHP, i.e., the Licensed mental health practitioner, can evaluate you if you want a prescription letter for an emotional support animal. Following is the list of these Licensed mental health practitioners that can evaluate a patient for an emotional support animal letter;
A licensed psychiatrist
A licensed psychologist
A Licensed Marriage and Family Therapist
A Licensed Behavioral Therapist
A Licensed Addiction Therapist
A Licensed Cognitive-Behavioral Therapist
A licensed doctor qualified to conduct mental health assessments
A licensed Professional Counselor
A Licensed Clinical Social Worker
Any Licensed Mental Health Professional
Now, if any one of these health practitioners is licensed in your State, they can evaluate for an ESA letter.
You won't need to go anywhere and look out for your State's licensed health professional since we have a team of health professionals licensed in every State. Apply now to connect and get a prescription letter within a day!
What can I do with my letter?
There are several benefits of certifying your pet with the Fast ESA letter. You can go almost anywhere with your pet with this letter. If you hold an ESA letter, you can;
Stay with ESA in a no-pet rental apartment
Relieve yourself from paying extra pet fees.
Take your ESA to Airbnbs
Stay with your ESA in College or school dorms.
Although employers are not obliged to allow emotional support animals, showing an ESA letter can highlight your necessity for an emotional support animal in the workplace.
What does the Fast ESA letter's recommendation look like?
Laws consider an ESA letter as a legitimate document only if it contains the complete information of the patient, health professional, and ESA. We make sure that we include each and every piece of information in our letters as instructed by the laws. For that very reason, our ESA letter is an authentic and legitimate document.
Here is a sample of what our esa letter will include;
LMHP's official letterhead
Name of LMHP
Type of LHMP's medical license
Date of issuance of LHMP's medical license
LHMP's medical license number
LHMP's jurisdiction
Contact details and signature of LHMP
Patient's name
Confirmation and recommendation for an emotional support animal
Name, type, breed, the weight of the pet
Issue date of ESA letter
Expiry Date of ESA letter
How long is the ESA letter good for?
A legitimate ESA letter expires after a year. It means that you can use an ESA letter precisely for one year from the issue date. For that reason, Fast ESA letters are good for a whole full year. Once expired, you need to follow the exact criteria that you followed for choosing our service for the very first time. Fill in the form, get evaluated by the health professional, and receive your ESA letter on the same day. The process is the same; easiness is the same, and the cost is $99 for renewal as you paid for choosing our service for the first time.
Apply now if you want to renew your ESA letter.
Are your services legal?
Yes, indeed they are. We work with every guideline set by;
The Fair Housing Act,
Air Carrier Access Act,
Americans with Disability Act, and
The American Rehabilitation Act of 1973.
Many well-distinguished organizations like BBB have also accredited us just because of our genuineness and excellent services.
We have a selectively chosen team of healthcare professionals licensed in their respective states. These health professionals evaluate patients following every guideline set by ESA laws, and only if those patients' mental health condition qualifies for animal assistance get an ESA recommendation.
We are also HIPPA Compliant; therefore, you don't need to worry about the information that you share with us as it is completely safe and secure.
Can I get an ESA recommendation for more than one pet?
Yes, you can. You can get ESA letters for your desired breed, weight, size, and number of emotional support animals.
As per fair Housing law, if your request for reasonable accommodation is reasonable, a landlord cannot deny your request. Therefore, as long as your request to have your desired number of emotional support animals is reasonable, you can adopt as many ESAs as you want and get ESA letters for the same.
However, unreasonable accommodation requests can be denied. For example, if you want to keep Eight emotional support dogs in a one-room rental apartment, the Landlord can deny your ESA letters as these dogs might be unable to fit in a small room, and further might harm the Landlord's property.
What is the Fair Housing Act? I have no Clue!
Fair Housing Act illegalizes discrimination against a person based on;
Religion,
Race/Color,
National origin,
Sex,
Family Status,
And disability; by any housing providers like landlords, real estate agents, and commodities like banks, municipalities, house lending companies, etc.
Solely talking about discrimination based on disability, it is illegal to refuse the "reasonable accommodation" request of a disabled individual by house lending authorities.
Therefore, as per the Fair Housing Act, a landlord or any house lending authority cannot deny a mentally or emotionally disabled person's request to accommodate an emotional support animal with them.
How long does it take to obtain a Fast ESA's Emotional Support Animal Letter?
Once you apply for our ESA letter service and fill in our form, you will get your ESA letter in no more than 24 hours.
In an exact amount of time, you will be able to know whether you qualify for an ESA letter or not. Our licensed healthcare professionals work 24*7 and evaluate patients for ESA letters. If your illness qualifies for an ESA letter, our health care professional will send you your legitimate ESA letter on the same day. However, if your illness won't qualify, you will get your money back on the same day soon after the health professional's evaluation.
Note: As per Laws, California's health professionals are obliged to make a minimum 30-day patient-doctor relationship with the patient to evaluate them for an ESA letter's approval. Check out this piece of information to know more about the process to get an ESA letter in California.
What if my Landlord wants to verify my ESA letter?
You don't need to worry. We are with you from the instance you apply for our service until the Landlord accepts your ESA letter. We make sure our ESA letter contains complete information that defines the credibility of a legitimate ESA letter. However, if your Landlord is still in doubt, they can contact us anytime. We will cooperate with them and verify that your ESA letter is completely authentic, describing that your mental assistance requires you to stay with your emotional support animal.
Still, if the ESA letter won't convince your Landlord, you can take the advice of an ESA lawyer and file a complaint to HUD.
Do I have to register my ESA with the State?
Your pet doesn't require any registration to qualify as an emotional support animal. Neither State rules demand pet parents register their pets with the State to approve them as emotional support animals.
An ESA letter signed by your State's licensed healthcare professional is enough proof that your pet is an emotional support animal and your illness requires you to be around them.
This is my first review. I usually abstain from submitting any reviews, no matter whether my experience has been good or bad. But for the first time, I wanted to share my experience. Customer service representatives are great and they answer your call right away. When you submit your information, the questions are very detailed, allowing you an opportunity to provide as much information as possible and also, allowing a healthcare professional who will be reviewing your information an opportunity to get a very thorough picture about yourself and your condition. And they connect you with a local healthcare provider. I got my letter within an hour or so. Hands down, the best experience I ever had. Highly recommended.
Samantha Arpallan
Local Guide –13 Reviews – 8 photos
After being informed that (most) medical/medicad providers ( psychiatrists & therapist) in San Diego do not provide patients with "ESA" letters I had to do further research and found this professional clinical who assessed my current disability and identified my symptoms that could be improved with the support of an animal. The process was professional , effective and official ( money back guaranteed). I was emailed an accredited letter and now will provide it to my landlord so that i can bring my support dog home !
We had an excellent experience with fastesa. I had many questions about an esa for a minor, and a specific form my community required. All my questions were answered promptly, I was able to receive the specific form I needed, the price was fine, and everything was seamless.
This company is so amazing they were there for me and my family when we needed them the most they got me through the process and made it seem easy I was unsure about the application and didn't understand a lot about the questions but they had somebody there to take my worries away and help me be able to keep our dog who I was going to have to let go and it was like giving away one of my children and I couldn't do it they gave me the help I needed and coached me through the process and the filling out of the application and made it easy to understand I couldn't have asked for anything more from this company there angels from God and I cannot thank them enough in fact thank you just isn't enough to say for what they have done for me and my family I wouldn't have changed experience for anything in the world God bless them and their families and thank you God for sending them into my life and my dog Bobo we are forever in your debt and we thank you from the bottoms of our hearts for what you have done for us God bless
honestly the best experience I've had. my dog comes with me everywhere I go and being that she is a big dog it's hard to find housing for me. currently going through a divorce, being forced to move, dealing with depression and constant anxiety i most of the time find it hard to get through the day or find motivation to get up and do anything. my dog is all I have living on my own in a different state and just trying to make it. fast ESA made it so easy and they were super fast at responding. and even after my new apt complex requested a form to be filled out the doc got it done in just a few hours! honestly this has eased my stress on finding a home knowing I'm mow approved with my dog.
Fast ESA Letter is designed to simplify the online process to get an Emotional Support Animal Letter from a Licensed professional. We are here to acknowledge you with the best information available regarding Emotional support Pets. We are the most trusted service providers by millions of ESA owners, just like you.
Physicians provide recommendations to mentally challenged patients in keeping with federal law.
Fast ESA Letter's online process is easy and secure. You can get your ESA letter from the comfort of your home and lead a healthy life.
Our therapists follow strict moralities to keep your information private. We strive to make ESA certification easily accessible.
Emotional Support Animal Blogs
With the change in time and day-to-day life, many people suffer from severe mental health concerns affecting their lives. Mental health issues get to turn into mental illnesses when continuous signs and symptoms cause constant stress and start affecting function. Sometimes, while suffering from all such issues, it is hard to get over your emotions even by consuming medicinal treatments. Still, from recent studies, it has been found that people can overcome their mental health disorders by owning a pet animal.
You have probably heard each of these terms by now, but did you know that each term signifies a different kind of dog with a different kind of training and is meant for a different kind of work?
That's right. A therapy dog does a completely different kind of work than a service dog and they both have a different kind of training than an emotional support dog has.
Cats don't leave a single chance to lean into our plates. No matter whether we want to share our food or not! They would still love to have a bite. Of course, we shouldn't give everything we eat to our Cats. However, is it the case when we have our Powerpack Protein Snack, eggs?
Looking To Apply For an Emotional Support Animal Letter
Devoid time consuming appointments and apply for your 100% Legit Emotional Support Animal Letter signed by a Licensed Mental Health Professional from the comfort of your home Today.