20 Most Comforting Emotional Support Cat Breeds To Choose From!
Publish Date:

May 12th, 2022;

Author

:

Blake Quinn.
Before starting the blog, we have a kitty fact for our readers!
Did you know that cats cannot taste sweet?
Yes, they cannot! Unbelievable, right! To be more precise, they are the only mammals on this planet that cannot taste sweetness. So, it was a waste for all those kitty parents who were sprinkling sugar crystals in their kitty meals! Sadly, she couldn't taste your sugary meals all these years. But let us tell you, even if they cannot taste sweetness through their tongue, they can sense and even cherish the sweetness you hold for them inside your heart! Trust us! They might seem you a little cold, but they believe in returning the love 1000* times more than you offer them. That's what makes them the top chosen pets in the United States. Felines have been proven to improve the overall health of their owners. For that very reason, as per
spots.com
's 2022 Stats, since the year 2000, cat ownership in U.S households has risen to 29%. Such a massive raise is evident after looking at the benefits of keeping a kitty in the house, especially their role in improving the mental health of humans. That's the reason why they are the best ESA. Yes,
cats can act as ESAs
. If you are also looking to improve your mental health, getting a cat can be the best decision you will ever make. If the idea of an Emotional Support Animal is still vague for you, we have penned down for you complete information regarding what ESAs are, how cats fall into this picture, and what are the most comforting Emotional Support Cat breeds. Lastly, we have also described how to make a cat your ESA.
What is an Emotional Support Cat?
To understand what an Emotional Support Cat is, first understand what emotional support animals are.
An animal who helps a person suffering from emotional or mental illness with support and companionship is called an emotional support animal.
Now, as per the American Disabilities act, almost every animal can act as an Emotional Support Animal. Out of all, Cats are one of the highly preferred pets and are chosen as an ESA by most people.
Who can adopt an Emotional Support Cat?
If you experience any of the following disorders, you can get the opportunity to adopt an ESA cat;
Anxiety
Depression
Panic Attacks
Personality Disorders
Bipolar Disorder
Sexual disorder
ADHD- Attention Deficit Hyperactivity disorder
Substance-related conditions (alcohol, drugs)
OCD- Obsessive-Compulsive Disorder
Phobias
PTSD-Post-traumatic stress disorder
Acute Stress Disorder
Eating Disorders
Learning Disorders
Developmental coordination disorder
Schizophrenia
Autism and many more.
Only a State-licensed Mental health professional has the right to decide whether a person qualifies to have an ESA cat or not. The Health professional writes an ESA letter to certify a cat as an Emotional Support Cat and indicates that its owner is seeking mental and emotional benefits from the certified Cat.
What are the benefits of having an Emotional Support Cat?
Along with improving symptoms of mental illnesses like stress, anxiety, depression, etc. There are several other benefits for humans of petting an Emotional Support Cat; some of them are mentioned as follows;
Cats help in bringing a purpose to life.
Cats help eliminate the feeling of loneliness.
Cats help in enhancing social skills.
Cats have the blessing to sense illness in their
owner much before it damages the whole body.
Cats help in building self-esteem.
Cats provide comfort and a feeling of safety.
And lots more.
Looking to Apply for an ESA Letter for Your Pet
Get Started by following these Steps: 1. Start FIlling up the ESA Evaluation form with your details. 2. Get Evaluated by a Local ESA Doctor once the submission is complete. 3. Get Approved and Receive your Letter In Your Email.
What are the Best Emotional Support Cat Breeds?
Persian cats are one of the most preferred cats as emotional support cats. Looking at the Qualities of Persians, one cannot deny that they are beautiful and poise inside out. Persian kittens have cute round-face with long hair and silky coats that feel velvety to touch. As mentioned earlier, Persians are as poised and calm as they seem. These cats don't get excited easily and prefer less physical activity; that is why they are simple to pet. Still, one cannot deny the struggle to maintain and care for their entangling long hairs.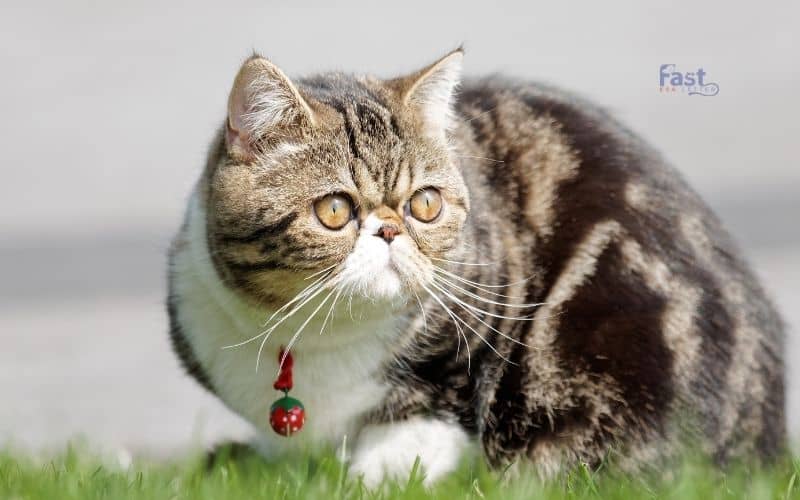 To be more concise, exotic shorthair breed cats are more like a shorthair version of Persian cats. Their similarity with the Persian Cat is because of their flat face and beautiful big eyes. Exotic Shorthairs crave human attention. Due to their super soft cuddly hairs, they are lovely to hug and play with. So, it is a more kind of win-win situation. They will value your love, and by petting them, you will also experience the feeling of fulfillment. Therefore, you can mark them on your list if you look for a cat breed as your emotional support animal.
If you are looking for an emotional support cat that will challenge you daily to move more and level up your physical activity levels, the Siamese cat is the best choice for you. These cats like to play with toys and enjoy it when accompanied by the owner while playing. Nevertheless, they offer great emotional support to humans but find solitude extremely painful. Therefore, you need to be there for Siamese cats all the time or adopt another cat to keep them occupied.
The Himalayan Cats are one of the finest cat breeds. Yes, they are. If you are a big fan of Persian and Siamese cats, a Himalayan Cat can be the best option, as it is a crossbreed between Persian and Siamese. Captivating blue eyes of Siamese and stunning hair of Persian Cats, they have it all. They might seem a little lazy and frigid. However, as time passes, once they become comfortable with you, they will adore you most. Therefore, Himalayan kitties might take some time to open up, but their love is worth waiting for. For that very reason, they make good ESA.
American Bobtail is a rare and quite expensive breed. The reason behind this is that they are quite a new breed. They are considered moody cats and like things to be in their way. When they are in the mood for your attention, they will ponder all the love on you. However, they won't give you even a look when they are not in the mood, no matter how much you cuddle, pat, and caress them. Regardless, that won't mean they won't be there in your lows. Bobtails are very good at sensing emotions and care a lot; that makes them good ESA.
Sphynx is a hairless cat, which might give a wrong idea that it is not cuddly as the other cat breeds. However, they are not less loving, caring, or cuddly than other breeds. Instead, their depilated body is what makes them unique from other felines. If you or anyone from your family is allergic to cat hairs, getting a sphynx kittens as your ESA can be an excellent option. The hairless feature will cut down the barber visits cost, but you have to invest time and money in caring for their oily skin.
Some people consider the tabby orange cat in the cartoon Garfield to be a British shorthair. Well, he was a British shorthair or not, that's not clear. But let us tell you, British shorthair comes in various colors like red, cinnamon orange, black, cream, etc. It is a traditional domestic cat with a cute round face and short hair thick coat. British shorthair cats are an intelligent breed that is easy to train and can be petted easily. For that very reason, most of them prefer this British Cat as their emotional support cat.
As the name suggests, Ragdolls are no less than soft squishy dolls. They are a little hefty to carry but appreciate being petted and held in arms. Ragdoll's parents also claim that they don't mind carrying their chubby Ragdolls with a special mention that it is just a small price to pay to have these fluffy balls. The affection Ragdoll cats pour on their owners is also not less. Even in terms of devotion, Loyalty, and care, they are close to dogs, making them lovely emotional support animals.
If you easily get annoyed with cat hairs, then a Bengal cat can be quite an option for you. With the least shedding issue, Bengal cats have a beautifully colored coat. The pattern of their coats can be spotted or marble with various colors. The most famous Bengal cats are known because of their cheetah-like coats. Despite having a slender build-up body structure, Bengal cats are very light and easy to carry. Most people favor Bengals as ESA.
Have you ever heard that some cat breeds don't have tails? If you haven't, let us tell you that's true. Some cat breeds don't have tails, and Manx cats are one of them. You must be wondering how they express their happiness and excitement, as, unlike other cats, Manx cats don't have a tail to wiggle. Well, nature had a plan for that too. Manx are quite vocal cats, and they manage to express their emotions with their sweet kitty voice. Being loyal and playful, these tailless cats hold a spot in top ESA cat breeds.
If you were ever able to see a Beautiful Black Cat with copper-colored eyes, let us inform you that you have witnessed one of the rarest beautiful felines. Bombay cats are considered to have a sleek resemblance to Black panthers too. Bombay cats praise the affection despite belonging to such an elegant and high class of Black cats. They are good listeners and sense the worry or anxiety you hold inside. In situations like these, they will snuggle with you and try their best to comfort you. Naturally, they have the traits that make them top ESA.
American Shorthair is a domestic cat that adapts very well to a family home. It is a commonly available breed in the United States. However, it is believed by some that these Cats were brought from cargo in the U.S. You can spot these Cats in most therapy centers, as they are specially kept to calm the patients and make them feel more comfortable. Even specialists agree with its therapeutic benefits and consider it one of the best emotional support cat breeds. American Shorthair cats love to play with humans, and when alone, they manage to entertain themselves too.
Devon Rex is more like dogs when you will compare their craving for their owner's attention. They adore it when their owner cuddles them, holds them in their arms, and keeps them in their lap. Devon Rex cats' attention-seeking habit makes them a good ESA for those who feel lonely and want good company for better mental health. If you are a highly introverted person and feel uncomfortable opening up with people, Devon Rex cat will smoothly bond with you and make you comfortable to open up with them.
Maine Coon can be your most suitable emotional support cat if you desire a big snuggle buddy. It is a very famous breed, known for its large size and origin state, i.e., Maine (United States). That's why they are named Maine coons. You must have seen Maine coon in Star Trek. Book's cat Grudge was a Maine coon. These cats are quite attention seekers and behave well around children. For these reasons, they are great family cats.
Russian blue kitties have yellow eyes, which turn bright green as they mature into cats. They belong to one of the longest-living cat breeds and live up to 20 years. Russian blue cats are quiet and calm in temperament; they also prefer serenity around them. They don't demand to be pampered all the time, but that doesn't mean they don't value the affection you offer to them. Nevertheless, they are pretty easy to pet, especially for people with mild energy levels and looking for an ESA cat of a similar nature.
Abyssinian is a very famous short-haired cat breed with a beautiful coat of different colored banded hairs, and that is why it is considered a Tabby cat. If you wonder how this breed has such a unique name, then let us tell you this word came from the Ethiopian Empire, which was earlier called Abyssinia. It is believed that this cat breed originated in Abyssinia. That's how the breed got this name. Although Abyssinians are not Cuddly cats and don't prefer to be squeezed even with love, they are marvelous at sensing emotions and won't leave your lap if you are mentally struggling. For that very reason, people keep them as an ESA.
LaPerm Cat has its name from the word perm, which means curls. The breed has marvelous tight curls, which are unique in their own. It is believed to be one of the most preferred breeds as a lovable and loyal Emotional support cat. Instead of being a lap cat, it is a type of Cat who will sit on your shoulders to get your attention. LaPerm Cats are best to be petted in a family environment as they mix well with children and enjoy kids' company.
Spotting mesmerizing orange eyes is enough to recognize a Chartreux breed cat. They have a quiet temperament and are very easygoing. Chartreux's owners claim that these cats have delightful voices, and their purrs always soothe them. That is why Chartreux hits the spot in top emotional support cats. Being so intelligent and full of emotions, these cats understand human feelings and quickly bond with them. They are deemed as those cats who like to play a lot and are pretty acrobatic.
Regardless of being a long-haired breed, Balinese have minimal shedding issues. Therefore you can snuggle and relish your Balinese coat without suffering unnecessary hectic cleaning of the shedding hairs. Balinese adore attention and love to be around their owner. Balinese can offer you all of that if you are looking for 24*7 emotional support.
Turkish Angora is a typical snow-white cat, but it is also found in some other colors like blue, black, cinnamon, etc. The snow-white Turkish Angora cats require bathing days more than regular cats. Therefore, it is advised to keep indoors and that too in a clean house. It would be best if you also brushed Angora once or twice a week but with a good quality fine-toothed comb. The unusual fact about the Turkish Angora cats is that the cats belonging to this breed with only one blue eye are deaf from the blue-colored eye side's ear.
How To Make A Cat An Emotional Support Cat?
Emotional support cats are not some special cats that are specially trained and sold in pet stores. You can make a regular cat as your emotional support cat. Either buy from a pet store, adopt a street cat, or get one from a friend. If your mental health condition qualifies to have an emotional support animal, you can certify your Cat as an emotional support cat.
To make your Feline an emotional support animal, you need an ESA letter signed by your state-licensed health professional. For that, you can apply on the Fast ESA letter. Follow our easy 3-step process to certify your Cat as an emotional cat with a legitimate ESA letter signed by a state-licensed health professional. It goes as follows;
Apply on our portal by filling up a simple form mentioning your Cat details and your mental illness.
Once Submitted, your state's licensed mental health professional will evaluate your application.
If the health professional approves your application, you will receive an ESA letter on the same day of approval.
You can use this ESA letter,
To stay with your Cat in no-pet apartments
To free yourself from extra pet fees.
To keep your Cat in a college or school dorm
To bring your Cat to AirBnbs.
And for many other purposes.
Cats are lazy, cold, but extremely magnificent and cute creatures at the same time. If being with a cat makes you happy and lifts your mood, then for sure, getting a feline as your emotional support animal can be the best option for you. Pick any breed we have listed in this blog and make it your ESA by getting an ESA letter, Today!
Blake Quinn is a huge animal lover and loves to spend time with her pets. She is not a big Chit-chatter and prefers penning down her feelings and views instead of uttering them aloud. Occasionally, she writes for a living too! When she is not writing, you can find her hiking on rocky mountains, sipping coffee in cozy cafes, and haunting local bookstores!