Free Pre-screening, Instantly!
Live and Travel with Your Pet
For Free.
★★★★★ – Trusted by 20,180+ Patients
Full Refund If not Approved
If you are not approved for any reason we will offer you with a full refund.
Complete the Free Pre-Screening Questionnaire Online
To begin with, fill the online pre-screening form with your medical details and describe your emotional support animal. Once done, Select the letter you need and submit the form.
Get Evaluated by a Licensed Health Professional
Afterward, A Licensed Mental Health Professional will review the form. Based on your answers, they will approve your request for an ESA and sign a recommendation letter for you.
Get Approved and Receive Your ESA Letter in your Email
Once you are approved and your ESA Letter is ready, we will send the digital copy to your email. After that, You can download or print your letter and present it to the landowner.
The #1 ESA Certification Portal in the World With Over 100,000 Patients Served.
Full Refund If You are Not approved
We believe in customer satisfaction, and for that very reason, we offer you with 100% moneyback Guaranteed If you are not approved by the doctor.
As long as you are under the laws and comply with the policies, you can always access the moneyback.
A Word From Our Customers.
We feel proud when we hear back from our customers
Cynthia Haney
★★★★★
My friend referred me to your company.
Very quick and easy process. Will totally recommend this company.
Christy Loop
★★★★★
Fast excellent service.
It was easy and the customer service was wonderful. I will definitely recommend.
Kendel Surette
★★★★★
Thank you again for this service.
I stay in a assisted living facility and they require a ESA letter to allow my pet to stay with me. This is very important animal that keeps me company as in the last 2 years I lost my father, my dog of 13yrs and just finished my divorce. Thank you again!
Kendra Norris
★★★★★
Very Quick and Easy!
Great customer service! They seem like they actually care about what they are doing! I was close to living on the streets because I was about to be evicted for having my pets and now their accepted thank you guys so much!! Strongly Recommend!!
Paz Belén Pérez Salinas
★★★★★
Excellent!
The service is excellent, I had a very bad experience with another emotional pet support company because I had a hard time communicating with customer service. My experience with Emotional Support Animal Letter was completely different, they answered me from customer service even before hiring the service and solved all my doubts.
Local Doctor's Signed ESA Letter
An ESA Letter signed and written on the professional letterhead of a health professional licensed in your state.
ESA ID Cards
A Wallet-Sized Plastic ID card that you can carry in your pocket every time you go out with your ESA.
Additional Housing Forms
Reasonable accommodation forms provided by the housing authority for doctor signings.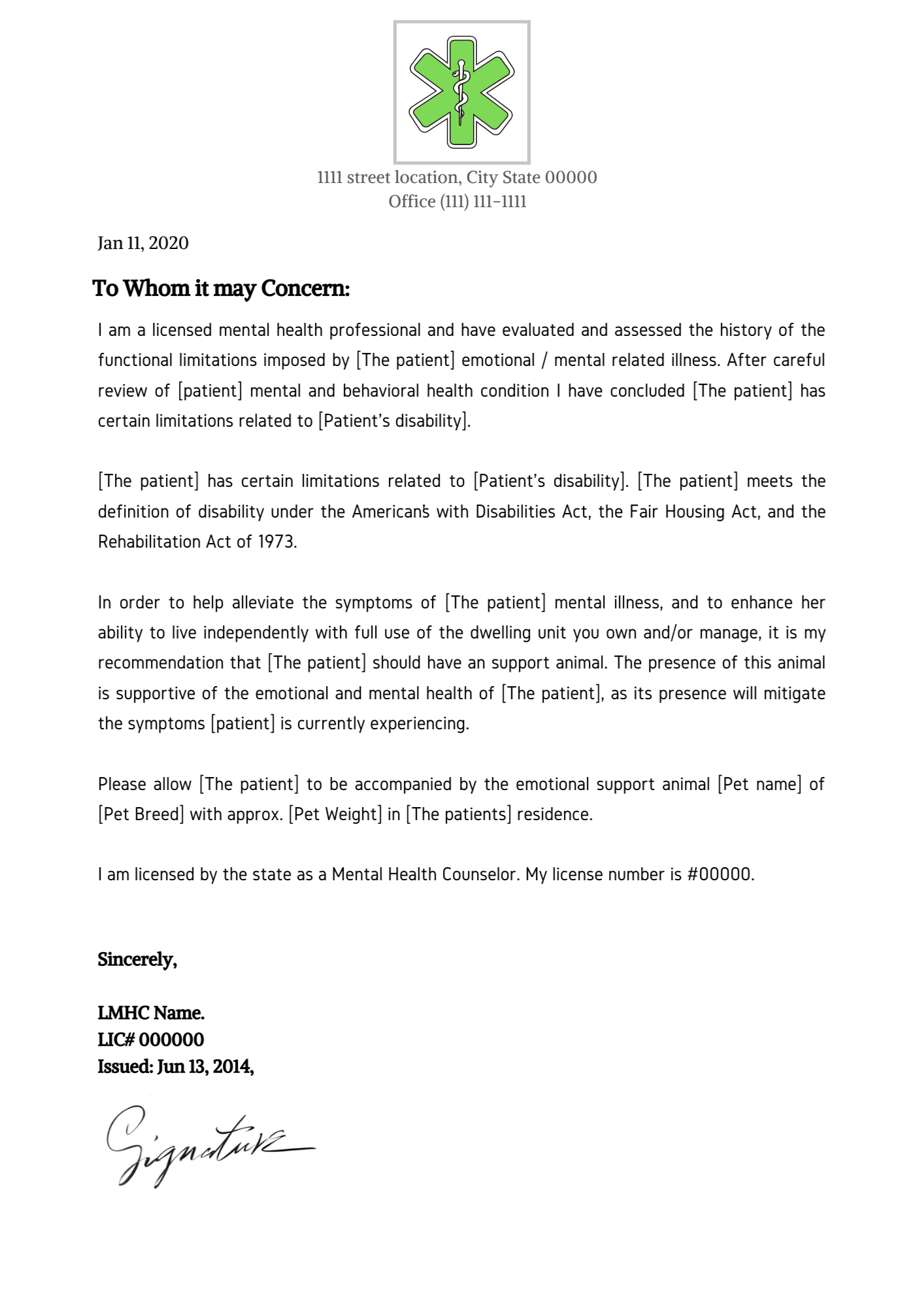 A Sample of ESA Letter that you will get on approval
A legitimate emotional support animal letter is signed on the professional letterhead of the doctor.
Therapist's name and signature.
Date of issuance.
Therapist's license number.
Date of the license, and state where it's issued.
Patient's need for an ESA.
Details of the pet may be included.
Places Where You can Take Your ESA Legally
An ESA Letter gives you the authority to take your Emotional Support Animal to places that are not accessible to pets.
ESA ID Cards
Identification
Frequently Asked Questions
What is an Emotional Support Animal (ESA)?
What type of animal can be an emotional support animal?
Emotional support animals are typically dogs and cats but may include other animals. Any type or category of animal can be an Emotional Support Animal. All domesticated animals may meet the criteria as an ESA like cats, dogs, mice, rabbits, birds, hedgehogs, rats, ferrets, etc. They can be any age, including young puppies and kittens, too!
What qualifies you for Emotional Support Animal?
Any Medical condition that is limiting at least one of your daily life activity can help you to get qualified for an emotional support animal. Any individual may subject to but not limited to Anxiety, Bipolar Disorder, Depression, Dyslexia, Mood Disorders, Personality Disorders, Post-Traumatic Stress Disorder, Stress, etc.
How to Get a Letter for Emotional Support Animal?
You can either get a letter for an emotional support animal online or by walk-in. However, the online process is much simpler. To get a letter online, you can
Fill-up and Submit ESA Evaluation Form Online.
Get Evaluated by a Licensed Professional.
Get Approved, and Receive Your ESA Letter Instantly via E-mail.
How Much does it cost to get a letter for my emotional support animal?
An Emotional Support Animal Letter from a state licensed professional will cost you $149 only.
Can I Get an ESA Letter Before Adopting a Dog?
You can be eligible for an ESA letter before adopting a dog as your emotional support animal (ESA). An ESA letter is an approval and a recommendation letter from a licensed mental health professional for the handler, not a "certification" for the specific animal.
Can I have multiple emotional support animals?
As per the Fair Housing Act, as long as your "reasonable accommodation request" is reasonable, which means your "desired number of emotional support animal requests" is valid, of course, you can have multiple emotional support animals, and the landlord cannot deny that. However, you need to submit an ESA recommendation letter signed and written by a licensed health professional to your landlord.
Will I get a letter from a licensed professional in my state?
Yes, Fast ESA Letter works with professionals holding a verifiable license to provide a letter for emotional support animals in your state.
All the verifiable details, along with the professional's license number, will be mentioned in the letter.
What if the therapist denies my request for ESA?
Fast ESA Letter understands that not every medical problem requires Emotional assistance, and the patient's request may get denied by the LMHP.
For that reason, we offer our customers a 100% moneyback guarantee. If the therapist does not approve you, you will receive a full refund.
Is it legit to get ESA letter online?
Yes, Getting an emotional support animal from online providers is 100% legit. The letter will be on the professional letterhead of a licensed professional and include all the verifiable details.
How long does it take to get my approval?
It takes 24-48 hours to get an approval for emotional support animal.
We also have expedited service available with a small fees.
How will I get my ESA Letter?
After Approval, You will get a Digital ESA Letter. We will send it to your email. You can download, print, and present it wherever required.
What information will my letter include?
ESA Letter prescription signed by our healthcare professionals covers all requirements defined by the federal laws.
It will include the information of you and your pet along with the details of the licensed professional.
Do landlords have to take emotional support animals?
As per the Fair Housing Act, 1988, landlords must rationally accommodate tenants who possess Emotional Support Animals, yet the building has a policy that forbids pets. Though landlords have no issue in endowing with the reasonable accommodation to that anguish from mental illness, it is vital to keep in mind that beneath the particular state of affairs, a landlord has the power of rejecting your ESA. As per the U.S Department of Housing and Urban Development, a property-owner can refuse your Emotional Support Animal when:
The emotional support animal is a menace to the Landlord and other tenants.
The emotional support animal is instigating corporeal damage to the landlords' property.
Can a landlord charge a pet fee for an emotional support animal?
Accommodation providers are not allowed to allege fees or deposits in association with ESAs. As per the HUD statements, an accommodation provider may not charge any pet fee. These animals are not pets and cannot be subject to pet fees. HUD specifically states the following: Although, accommodation providers can refuse an ESA if accommodating the ESA would inflict an "undue financial burden" on the landowner.
What is a Reasonable Accommodation form?
A reasonable accommodation form is an official document from a workplace, housing authority, or landlord to access whether a patient has a medical condition that would benefit from a reasonable accommodation.
Can you sign a form provided by landlord?
Your landlord can ask you sign that additional form by the same licensed professional. We can definitely help you with that with minimal fees of $39.
How can I make a secure payment through your website?
You can use your credit/debit card or Paypal to make the purchase.
Fast ESA Letter is an BBB Accredited Business strictly adhering to Legal Policies.
What Makes Us Your #1 Choice
Satisfaction Guarantee
We aim to offer you a positive experience that you can never forget.
Data Encryption
All your information is 100% private as HIPAA Guidelines.
Fast Service
Our Turnaround is 24 Hours Only.  We are someone you will look for in emergency.
100% Moneyback
Not approved? No problem! You will receive a full refund.
Local ESA Doctors
Connect with local licensed health physicians who will provide you ESA Certification.
Appointment Free
No need to make any appointments, You can apply from anywhere.
© 2022 | fastesaletter.com | All Rights Reserved.