Welcome to the Delta Airlines PSD (Psychiatric service dog) Policy Guide! We are here to explain the comprehensive guidelines Delta Airlines provides to ensure a smooth and comfortable journey for passengers with disabilities. Our PSD Policy Guide is valuable, offering insights and assistance to passengers, their families, and caregivers.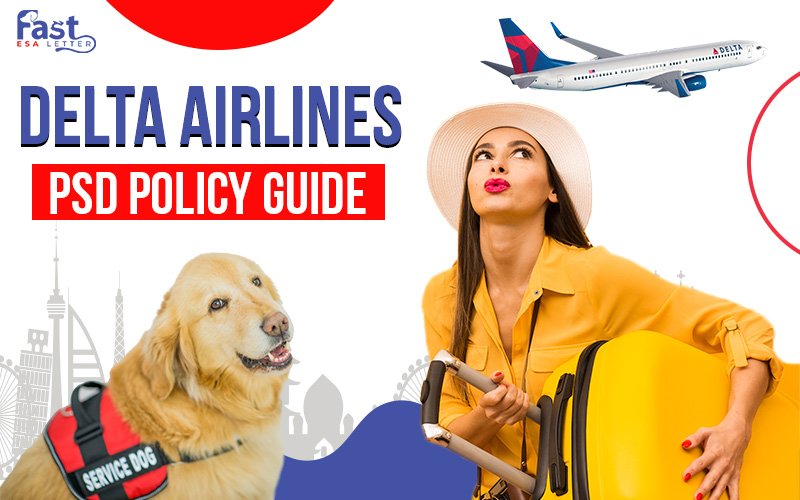 Is PSD Allowed In Delta Airlines?
You can travel with your PSD on Delta Airlines. These animals are accepted in cabins for persons with disabilities. Delta Airlines only accepts trained service animals, which are limited to dogs. Additionally, PSDs are exempt from pet restrictions, weight limits, and breed restrictions.
Documents Required for PSD on Delta Airlines?
The Airline requires passengers to submit the US DOT Service Animal Air Travel Form to fly with a psychiatric service dog. The form requires the passenger to fill in information about the animal, handler, vaccination record of the animal and completed training. Moreover, You must also agree to have your service dog leashed or harnessed inside the airport and onboard the airplane.
For flights longer than 8 hours, the passenger must submit the DOT's Service Animal Relief Attestation Form. By completing the Relief Attestation Form, you certify that your psychiatric service dog will not relieve itself during the flight or can relieve itself in a sanitary manner.
Where To Submit The Documents?
For travel booked 48 hours or more before departure, you must submit the documents in advance for validation through the Accessibility Service Request Form in the passenger portal of the Delta Airlines website.
For travel booked less than 48 hours before departure, you may present the documents at the check-in counter or departure gate.
Sitting Requirements With Service Animals On Delta Airlines.
Service animals may be placed at the customer's feet at any seat, not in an exit row.
Service animals may not extend into the foot space of another customer.
If no seat accommodates both animal and customer without causing an obstruction. In that case, the customer may check the trained service animal as baggage at no charge.
Service animals must be placed in the floor space below a seat or on a customer's lap.
The psychiatric service dog under two can sit on the customer's lap.
They will need to sit on the floor if they are larger than that.
PSDs are also not allowed to occupy an entire seat to themselves.
For larger service animals or passengers with multiple service animals, Airline may re-accommodate if the animal extends into aisles or encroaches on other customers, which would violate FAA (Federal Aviation Administration) regulations.
Service Dog Behavior in Delta Airlines.
When traveling with a service animal on Delta Airlines, ensuring that your dog behaves appropriately is essential. They should be well-behaved and respond to commands promptly.
If they misbehave, airlines may refuse the transportation of your service animal. Here are some key points to keep in mind regarding service dog behavior:
Non-disruptive Behavior: PSD should not display aggressive or disruptive behavior that may pose a risk to other passengers or airline staff. It includes barking excessively, lunging, growling, or any other behavior that may cause distress to others.
Control and Restraint: Maintaining control over your service dog is crucial. This means keeping PSDs on a leash or harness and ensuring they are within your control. Service dogs should not roam freely in the Airline, airport, and cabin.
Cleanliness and Hygiene: Service dogs should be clean and well-groomed before the flight. They should not have any foul odor. Additionally, attending to your service dog's toileting needs before and during the flight is essential.
Disturbances and Interactions: While service dogs are friendly, they should not interact with other passengers or airline crew members without permission. This precaution helps prevent distractions and ensures a focused working environment for the service dog.
Remember, maintaining appropriate behavior is crucial for a smooth travel experience. By managing your PSD behavior, you can help promote a positive and inclusive environment for all passengers.
What if I have Multiple Service Animals?
A person with a disability can travel with a maximum of only two PSDs. The limitation of two PSDs per person allows for efficient management of the cabin space, reduces the potential for overcrowding, and helps maintain a balanced environment that accommodates the needs of all passengers.
It is essential to understand that accommodating more than two PSDs could disrupt the travel experience for other passengers. Therefore, airlines have implemented this policy to balance.
It is the passenger's responsibility to ensure adequate space to accommodate both animals. They need to complete DOT documentation for each animal. You may purchase extra seats to provide enough floor space to accommodate the extra animal.
Do Service Dogs Fly For Free on Delta Airlines?
Under the Service Animal policy, PSDs can accompany their handlers in the aircraft's cabin at no additional cost. This policy ensures that individuals with disabilities have equal access to air travel without facing financial barriers. The no additional charge policy reflects Delta Airlines' commitment to recognizing the vital role that trained service animals play in the lives of their handlers.
Temporary Suspension of High-Risk Dogs
Before planning a trip with delta airlines along with your service animals, it's worth being aware that the Centers for Disease Control and Prevention (CDC) has temporarily suspended dogs from countries considered high risk for rabies. This includes service dogs and pets.
If you are a traveler from a high-risk rabies country, you must either have a CDC Dog Import Permit or meet the CDC vaccination and microchip requirements.
Beginning March 1, 2023, you must have a valid CDC Rabies Vaccination and Microchip Record to obtain a permit or make a reservation. Remember, CDC will NOT accept foreign-issued certificates for foreign rabies vaccinations.
Are there service animal relief areas at airports and onboard?
All airports in the United States must provide a designated service animal or pet relief area. These areas are designed to meet the specific needs of the animals, providing a safe and clean environment for them to relieve themselves.
However, Delta Air Lines is not responsible for providing care or food. They can assist with identifying the location of an animal relief area and security if necessary.
Looking To Apply For An Emotional Support Animal Letter?
1. Fill up and Submit ESA Evaluation Form Online.
2. Get Evaluated by a Licensed Professional.
3. Get Approved, and Receive Your ESA Letter Instantly via E-mail.
Wild Animals as Emotional Support Animals.An Emotional Support Animal may be termed as an animal that provides emotional support to the person seeking an ailment of their anxiety, depression, or any other mental issues. Most people prefer a dog or a...